HIT database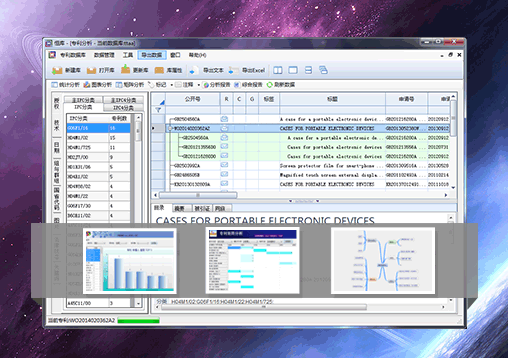 "HIT database" is a collection of patent information retrieval, management and analysis as one of the platform tools, and the use of dynamic patent database, patent data achieve online search. Dynamic patent database and the global patent database achieve dynamic connection to retrieve and download through the Internet. And it breaks the scope of the previous patent database and content limitations to solve the language barrier, update untimely, cumbersome operation, rough retrieval and other problems.
"HIT database" can search the establishment of patent database, and has a powerful analysis function, simple and practical operation, it established a new concept of patent analysis for the study of patent personnel to provide an indispensable tool. It can provide enterprises with relevant competitive intelligence and decision support, with the effective development of patent strategy for patent workers, intellectual property experts, intelligence experts, legal experts, researchers and others.
Features
2. High-speed stable download: You can connect the European Bureau, the US Intellectual Property Office, the Chinese Intellectual Property Office database, and download the patent information (abstract, manual, claims, legal status, view, full text) f including UPC And IPC (8) basic and extended information, citation patents, patent examiners, assistant examiners, agencies (people), etc.
3. Query function: query the directory, brochures, abstracts, claims, legal status of the keywords, words, and establish standard library sub-library
4. Automatically update the database
5. Secondary search: in the range of downloaded patents with the patent number, the applicant, the inventor, the international IPC classification , quickly find out the need to view the patent
6. Increase the patent: enter the new search conditions, to the original database to add new patents
7. Strong translation function: translation of multiple languages, English to Chinese. German, French, Russian, Japanese, Italian, Korean OR other languages ​​to English.
8. Strong analysis of the combination: inventor, applicant, international IPC classification, European classification, same family, open (report) year, priority year and custom free combination analysis.
9. Patent Evaluation: evaluate after setting the evaluation factor, assess the patent availability, cost / principal, company impact, and risk according to the importance level
10. Citation analysis: can quickly establish a patent data forward and backward patent cited model, the citation analysis
11. Statistical charts: patent analysis to column, cake, multi-dimensional, matrix and other charts
12. Statistical reports: Automatically generate a variety of Word statistical reports, such as the International IPC classification, the applicant and other reports
13. Export function: the data can be exported to Word, Txt, Xml, Excel
Operating environment
Hardware: CPU - single-core more than 1GHz;
Memory - more than 1G;
Hard disk - more than 100G;
Network - above 512M
Software: System - Windows 2000 / XP / 2003 / vista / 7/2008
Components --.NET Framwork 4.0, SQL Server2008, PDF reading software (recommended adobe Reader or FuXi reader)